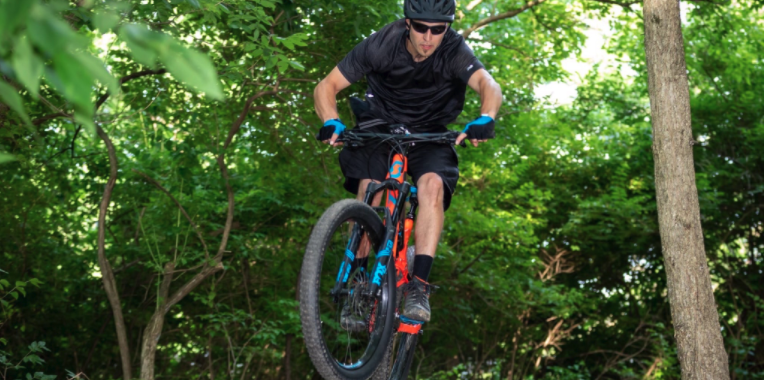 Gardner Park is located on 38 acres at Third Street just north of Locust. This is one of three continuous parks with rock-lined roadways on Quincy's north side. The trail has two entrances. There is an additional third entrance, within walking distance from Bill Klingner trail  5th Street trailhead.
Location: Gardner Park Quincy, IL 62301 | Trail Map | Parker Heights, Gardner and Sunset Trails Map  | Volunteer logs
A new shelter house was built in 2012 that features picnic tables and a grill. Nearby are restrooms and a new playground that was built in 2010. There is also an outdoor basketball court and a trailer dumping station for campers is available for public use.
Always notify somebody, when you are visiting nature trails
Always keep up to date with current weather conditions
Never ride, run or hike when trails are wet
Ready to check out the best nature trails in Quincy? Gardner Park trail offers unparalleled hiking, running, mountain biking experiences, and more, with 3.0 miles hand-curated trail maps and directions as well as detailed trail grades. The site offers astounding topography and mind-blowing views along the way. The majority of the trails in the park offer an easy hike, but those seeking a challenge will enjoy the mountain trail. The trails have something for everyone. Choose from a variety of trail lengths and levels.
Experience a peaceful and off the beaten track, the perfect location for a reflective respite from the hustle and bustle of daily life. Autumn's vivacious colors are on full display along this winding trail as it ushers you through woodlands trails. If you're looking for a fall alternative. The trail provides a refreshing change. Fresh air, head outside and explore the beauty of Gardner Park trails. From quiet sojourns with nature to exciting adventures–Trails has a hike for all tastes and abilities. The trails let visitors encounter a high-quality forested habitat, wildlife, rocky areas, and vibrant fall foliage.
​Motivating mountain bikers, hikers, runners, and trail seekers into Gardner Park nature trails
Mountain biking is an adventurous and fun activity, which involves riding a bicycle off-road. For this type of activity, you need a mountain bike that is designed to ride on more rugged terrain. While mountain biking is a thrilling sport, it's also a great way to reconnect with nature. This means days of riding out in an unspoiled wilderness refuge, pedaling at our own pace, with nature views as far as the eye can see.
Why we don't use the trails when they are wet?

Tire ruts and footprints in mud collect water. Damaged trails take longer to dry and are unpleasant for all trail users.
We need your support to keep trails stay in good shape for you to use over the many decades that they were built to last.
Please do not ride, hike, or run if you are leaving tracks or prints in the mud. If the trail is dry and open with some soft or muddy spots, please do your best to neither widen the trail or leave ruts in damp areas.
How hard is it to fix a trail after it's damaged?

When the trail is damaged, your fellow hiker and mountain biker volunteers must schedule and spend hours repairing and smoothing the trail. This time could be better spent building more trail! In the worst cases, a single day of heavy damage can require the intensive effort of rebuilding sections of trail.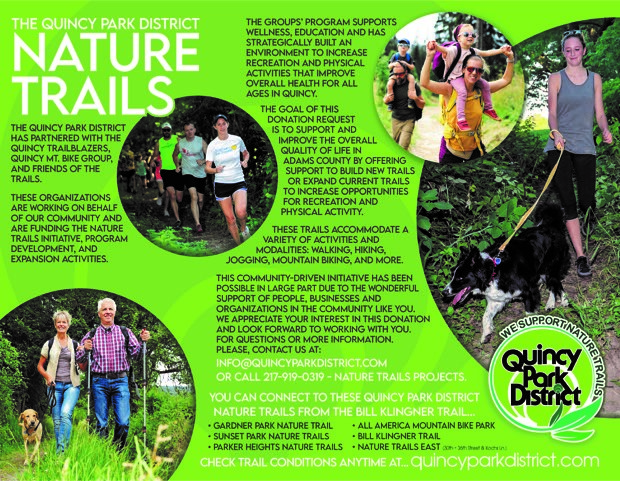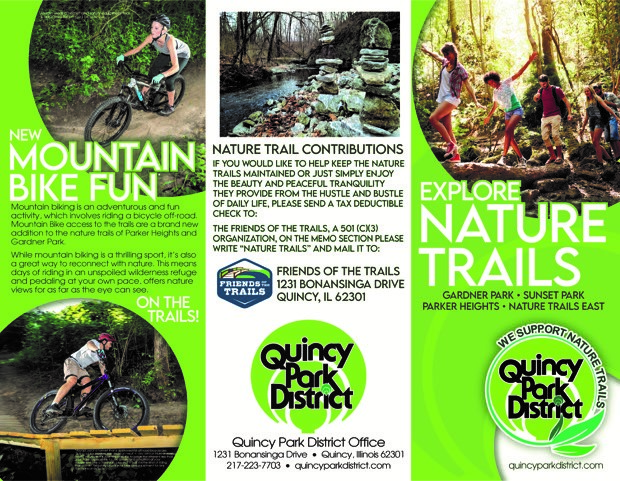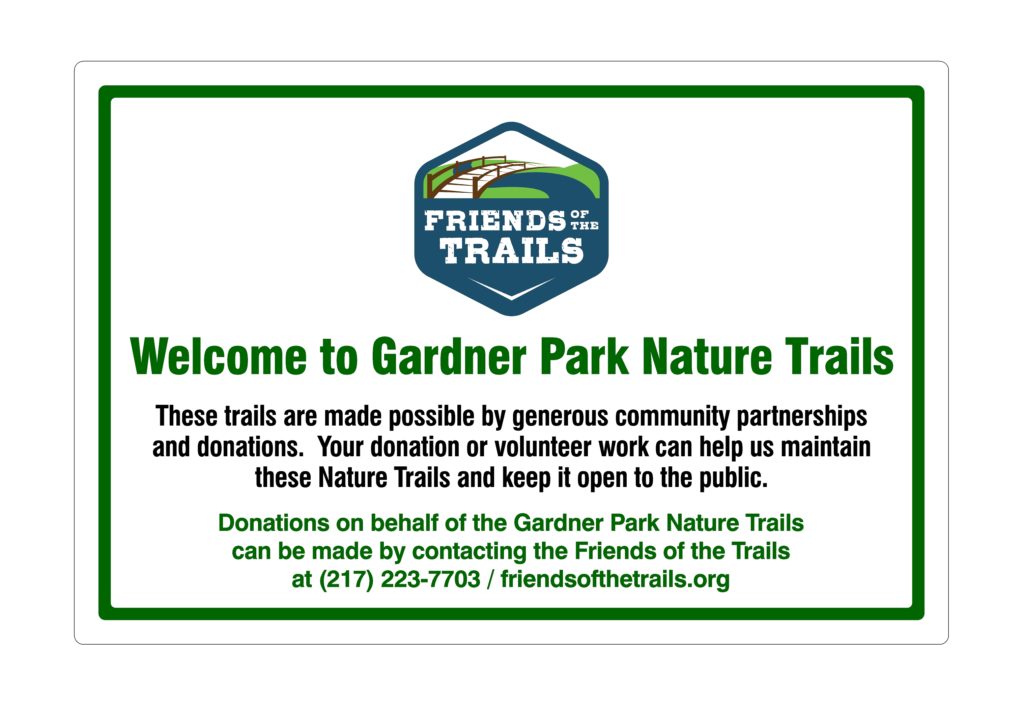 Park Info
Restrooms: Yes
Boat Launch: No
Playgrounds
| | |
| --- | --- |
| Playground | Yes |
| Play Lot for Tots | No |
| Restrooms | Yes |
| Number of Shelters | 1 |
| Number of Gazebos | 0 |
| Grill | Yes |
| Electric | Yes |
| Water | Yes |
| Address | 3rd and Locust |
See All Playgrounds  
To reserve a gazebo or shelter house, visit the Quincy Park District office at 1231 Bonansinga Dr. or call
(217) 223-7703
.
Shelters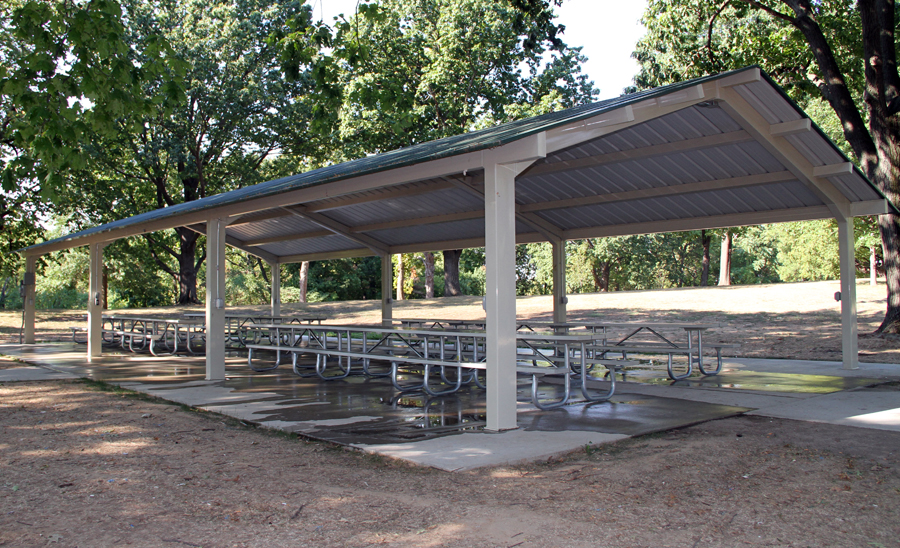 | | |
| --- | --- |
| Shelter Dimensions | 30 ft. x 65 ft., 1,950 sq. ft. |
| Picnic Tables | 15 |
| Grill | Yes |
| Electric | Yes |
| Water | Yes |
| Playground | Yes |
| Restrooms | Yes |
See All Shelters for Rent