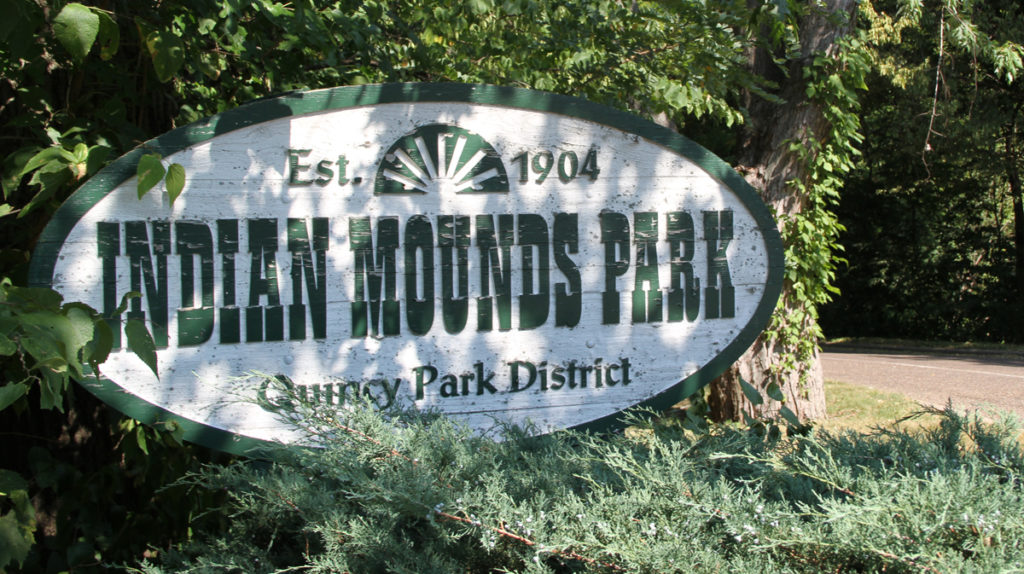 Indian Mounds Park is located on 37 acres at 5th & Harrison and is home to Indian Mounds Pool, Quincy's first public swimming pool.
There are picnic tables, drinking fountains and concessions available inside the pool area.
Indian Mounds Park has a scenic view of the Mississippi River and has some of the best preserved Native American Indian Burial Mounds in the country.  A walking timeline extends along the road north of the pool that tells the story of the region from the end of the last ice age until the European settlement.
Indian Mounds Pool 2023 Opens June 3rd-August 13th
Indian Mounds Pool is located in Indian Mounds Park at Fifth and Harrison.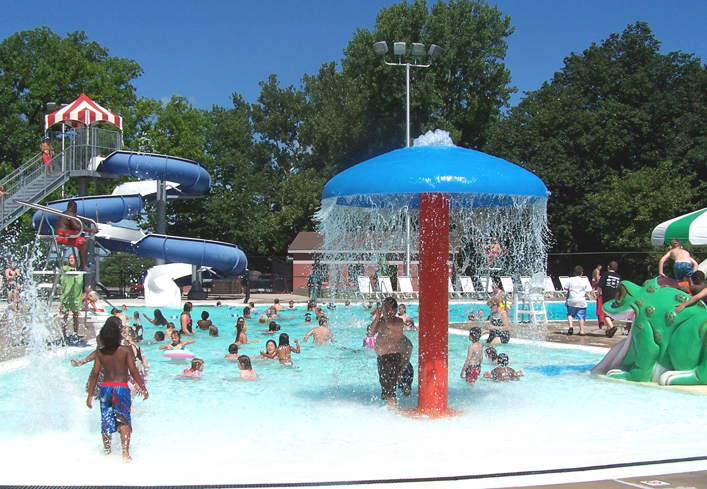 Pool features
Waterslide
Diving board
Sand Volleyball court
Concession area
Heated pool
Water toys
Zero depth entry
Shade Structures
Hours
Monday-Friday: 11:00 a.m. – 5:00 p.m.
Saturday-Sunday: 11:00 a.m. – 6:00 p.m.
Indian Mounds Pool Schedule 2023
Daily Admission
Youth (12 yrs & under): $3.75
Adult (13 yrs & older): $3.75
Seniors (62 yrs & up): $3.75
Veterans: $3.75
Download Private Pool Party Form (pdf) »
Season Pool Pass
Each season pass holder must stop by the Quincy Park District office to have a photo taken for an ID pass, the office is located at 1231 Bonansinga and open from 8 to 5 p.m., Monday through Friday.
Rates: $45 for an individual and $95 for a family of up to five living in the same household.
Birthday Splashes
Splash: $75, includes pool admission, birthday cake and beverages for up to 10 children, with a charge of $5.00 for each additional child.
Splash Deluxe: $105, includes pool admission, birthday cake, colored party supplies, coupons for mini-golf or pool admission, goody bags and beverages for up to 10 children with a charge of $6.25 for each additional child.
Download a Birthday Splash Form (pdf) »
To reserve a party, email info@quincyparkdistrict.com or call (217) 223-7703.
Excessive Heat Warning Policy
When the National Weather Service issues an Excessive Heat Warning for Quincy, admission will be $2 during this period. An excessive heat warning is when the heat index is going to be 105 degrees for at least two consecutive days. The heat index is the actual temperature and humidity combined.
Pool Age Policy
To ensure the safety of the public and to provide for an environment where the lifeguards can perform their duties of watching over all patrons, the following admission policy will be strictly enforced:
An infant less than 2 years of age will be admitted FREE only if they are under the constant supervision and the immediate contact and care of an adult at least 18 years old.
All youth (ages 2-12) must be accompanied by a responsible adult or teenager (16 and up) who is to provide for their direct supervision while they are at the pool.
Adults (ages 16 and up) will be admitted to the pool and will be allowed to supervise and be responsible for youth in their charge. Adults aged 18 and older will be the only patrons allowed to enter the water during "safety checks".
Park Info
Restrooms: Yes
Boat Launch: No
Playgrounds
To reserve a gazebo or shelter house, visit the Quincy Park District office at 1231 Bonansinga Dr. or call
(217) 223-7703
.
Shelters